I just spent a wonderful few days in Toronto with a lot of great new friends. My best bud Gabriel and I were treated like kings by our hosts Marco and Nancy, a musician and poet who have a wonderfully vibrant and connected life in Toronto.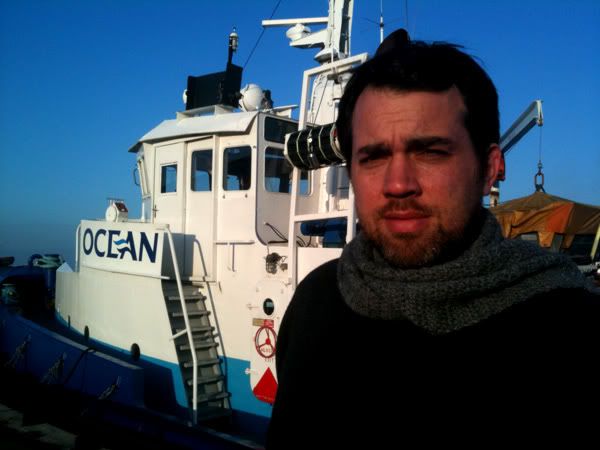 (Gabriel at the Hamilton Pier)
Marco has recently released a solo album of soulful ambient music. Here is the fantastical, hand-drawn animated video to one of his songs:
Our first night we ended up at the Dakota Tavern, an inviting Country themed venue. The act who was playing, Andrew Penner, created an immense sound blanket covering the whole room with passion and warmth. With only an acoustic guitar, one foot on a bass drum, and one on a pedal keyboard, he sounded like an orchestra. His band, The Sunparlour Players has just released an album called Wave North. It's lovely. I'm sitting here listening to it on my record player right now. Perfect combination of the Canadian sense of wide-open space, and his own very personal fire in the belly.
(Andrew Penner at the Dakota Tavern)
We also spent an evening bopping around and caught a Punk revival act (I haven't seen it pulled off this well before, and these guys brought such joy and energy to the songs that it really felt like a barn dance or a real deal folk show) called The Screwed. Leather-clad, Middle-aged women were dancing like they were 19 again. All of us dudes bopped our heads and played air guitar along with the best riffs. The drummer looked like he was having more fun than anyone in the room, and when he broke a stick mid song and kept on going, you could feel the energy in the place shoot through the ceiling.
That night we also caught J. J. Ipsen, a writer of intricate, baroque-pop who was accompanied by a tasteful piano player. And Ray from Pink Moth, who was the nicest guy, and played his own take on indie melancholia. I felt bad when we slipped out after a couple songs to get to a party that had been set up for us, but if was great to catch what we could. Ray recorded his last ep in a church, which resonates with me because of the recording of 'October 29th'.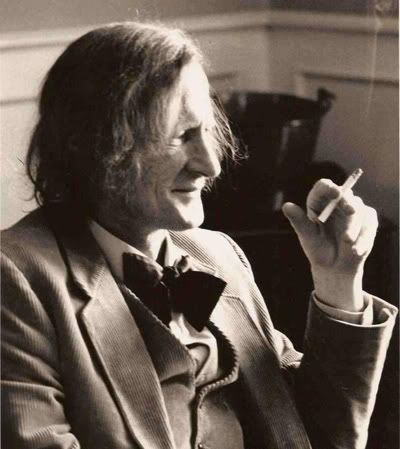 (Hugh Oliver)
The last night we had an all out beatnick hang with the 80 year old poet/songwriter/literary scholar Hugh Oliver. He's a good friend of Nancy and Marco's, and we spent the evening playing old folk songs (Marco, giving us Italian pearls from his childhood and Hugh offering aching British love-lorn ballads and uproarious Wine/Women cautionary tales), riffing on Shakespeare, downing red wine, learning about Greece from Nancy, discussing the nuances of documentary film with Gabriel, and generally having the kind of night I dreamed my adult life would look like when I was 12.
Like the whole trip, and Toronto itself, that night was filled with the traditions of various cultures, bonded and celebrated by music and friendship and love and humor and acceptance. We did it. No one can erase it. That's life. Toronto style.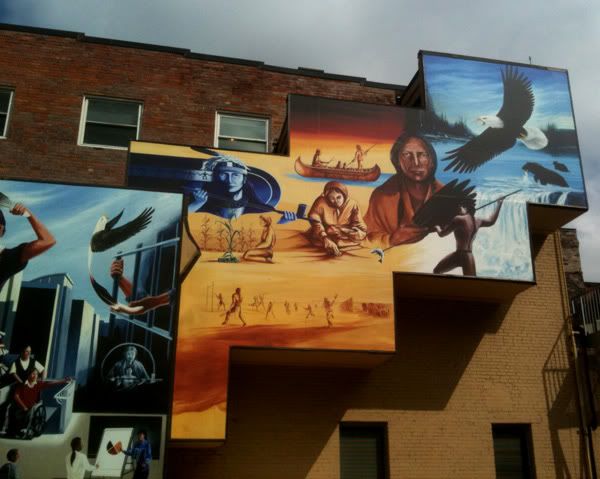 (A Toronto mural)
One Response to "Toronto"
Katherine Fahey Says:
April 7th, 2010 at 11:21 am

Thanks for all the treasures you brought back from your travels. Looks like an awesome, inspirational trip!
Leave a Reply