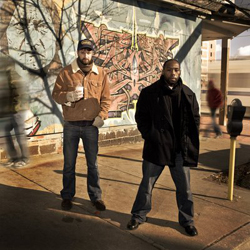 Outgrown These Walls
Caleb and Saleem
Vibrant and unexpected, this collaboration was brought together by Baltimore radio station WTMD, and the result in a genre defying testament to the power of storytelling in American music.
"In early 2008, I had an outlandish idea: Take two Baltimore musicians who had never heard of each other, pair them up and force them to write four original songs in six weeks. And the musicians I picked, Caleb Stine and Saleem Heggins, couldn't have come from more different backgrounds. Caleb was an Americana singer/songwriter; Saleem an MC who liked vintage hip-hop. But the friendship they forged and the songs they wrote in a matter of months are astounding.
The first time Caleb and Saleem performed this music live, audience members teared up. Together they have far exceeded the original challenge and created something truly compelling." — Sam Sessa, WTMD and THE BALTIMORE SUN
Price: $13.99
Price includes shipping.