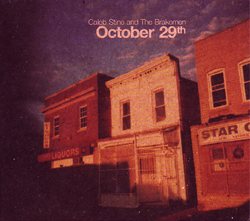 October 29th
Caleb Stine and The Brakemen
Recorded in one day, in a Baltimore church, the debut disc by Caleb Stine and The Brakemen captures the yearning and loss of young men looking for their place in a new America.
"Stine's songs have a prominent sense of place to go with their southern, Son Volt-ish twang. He sings about crossing the border and "this dry land" in the domestic-abuse ballad "Devil," and croons, "How little I know about you!" to the corn-husker state in "Oh, Nebraska." The fantastic "Since Sunday" is a letter to a friend who is packing off to Barcelona while the singer heads west to California. Stine's voice is earnest and honest, and his band (with its acoustic rhythm section and discreet electric guitar lead) keeps things simple. It's good stuff." — THE URBANITE
Price: $13.99
Price includes shipping.