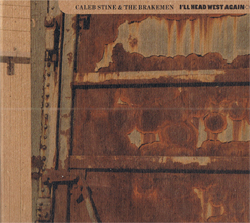 I'll Head West Again
Caleb Stine and The Brakemen
Rugged, pure-of-heart, and brimming with life, the second Brakemen record kicks into high gear with the road epic 'Daniel Boone', coasts down country lanes on 'A Porch in Nashville', and stops in front of a lost-love's house on the duet 'Come Back Home'.
"Caleb Stine and the Brakemen, an Americana ensemble out of Baltimore, play music that is appropriately trainlike—steady and powerful. Stine, who is lanky and bearded, croons narratives—often without choruses—that wind seamlessly through cities and relationships." — THE NEW YORKER
Price: $13.99
Price includes shipping.